✨

WHAT'S NEW
Bulk edit issuance transactions
Closing dates, per-share purchase prices and other variables often change during a transaction. Updating each variable one-by-one across dozens or hundreds of issuances is a pain. That's why we've given you the ability to select multiple transactions and update common variables all at the same time! To see it in action:
Visit the Securities section of an entity
In the Transactions tab, select multiple transactions
Click the dropdown button (# selected) to the right of the + New

button

Click Edit selected
Fill in the details for what you would like to edit!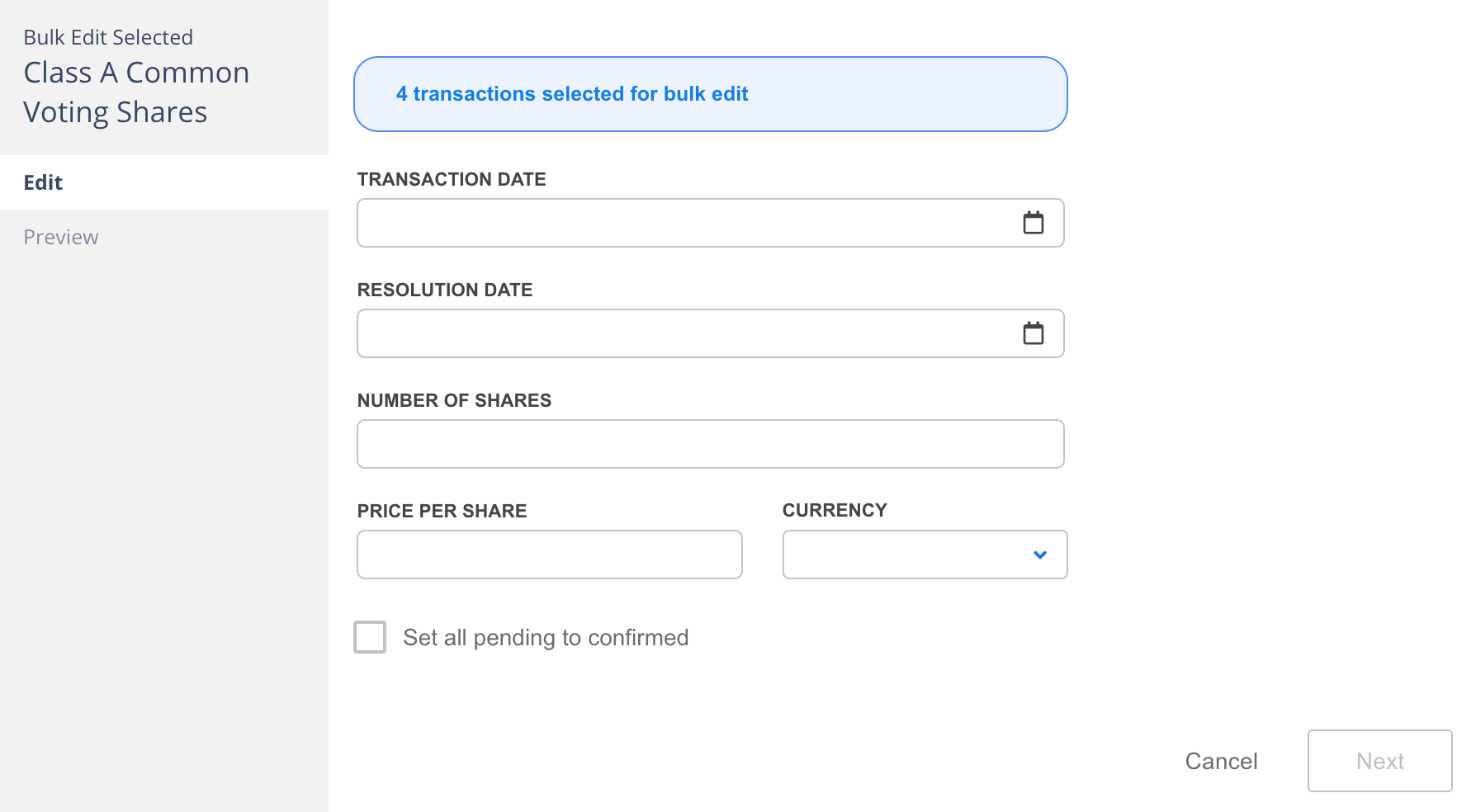 Watermark your Virtual Minute Book (VMB)💧
Keeping track of a VMB can be tricky when you're sharing it with different team members and clients. To help with this and maintain accountability, we've added an option to apply a watermark to all pages of the VMB when you download it as a PDF. Simply select
Apply watermark to all pages
when downloading and
COPY
will be applied across each page of the VMB.

Page numbers in your Virtual Minute Book (VMB), the choice is yours! 🔢
To include or not to include page numbers... that may not be the question, but it is an option now. As shown above (sorry for the spoiler without warning 🤭), when downloading your VMB as a PDF you can now choose to include page numbers. If you do not select to include page numbers, page numbers will be omitted from the PDF download of your VMB.
Swaziland has been updated to Eswatini
We've updated the name of Swaziland to Eswatini. Admittedly, we are behind the ball on this as the name was officially changed in 2018. That said, 🙈 SPOILER ALERT 🙊 we're in the midst of automating updates of our jurisdiction lists based on ISO standards so we won't encounter this problem in the future.
🐞

WHAT'S FIXED
When setting the Summary Only (Default) option in template settings, the settings for all other templates were removed
Templates for coded documents could not be downloaded
Tags for Tasks were not appearing in the Custom Report downloads